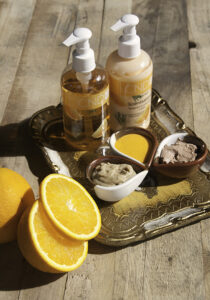 Grande Nail Only For Manicure & Pedicure
This treatment is to enrich and nourish hands, nails, arms,area. This treatment's recipe has adapted by Grande Nail by using Tangerine products with Fresh Tangerine which are fully of natural essential and vitamin C. This is to improve skin's firmness and make skin feel softer and look healthy.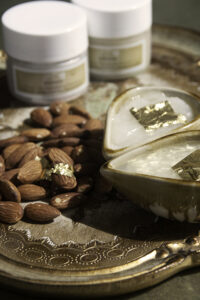 Gold Almond Spa Pedi & Mani Signature Service


Slip Away on a fragrant voyageSure to relax. Sure to delight. Sure to inspire an escape you can provide. New Gold Almond SpaPedi&Mani Signature Service  is a soothing menu addition to comfort and indulge you time after time."Just said from our website Gel 500 baht discount"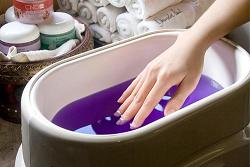 Hands & Feet Treatment Paraffin


The treatment is to enrich and nourish hands, feet, nails, arms, and area by Paraffin Treatment. Also, it keeps skins moisture but to remove skin's coarse. Most importantly, it helps for better blood circulation.



Signature Service Nail Enhancement


This treatment is two tones Color French for Acrylic and Gel Enhancements to make nails look fabulous and naturally that last up to 3 week. This is the one of nail enhancement signature services @ Grande Nail "The Nail Resort"
Acrylic Extension /Fill in


This treatment is to make nails look neatly by using Acrylic powder and liquid. The process can be customized depending on size and lenght of customer's nails. The availiable pattern is Natural, Crytal, French and Fancy.
Grandenail Choose the product WITHOUT MMA.
MMA is not a high quality product, it is super hard when cured, and the nail plate it self has to be roughed up to adhere in such a manner that avery high number of layers of nail plate are scratched away and removed. Electric Drills are commonly used without any professional training on this product, because of the hardness of it, and also very difficult to file by hand.
Gel Extension / Fill in




This treatment is to make nails look naturally and neatly by using Gel. The process can be customized depending on size and length of customer nails. The available pattern included Natural, Crytal, French and Fancy
Spa Manicure


Provide a wake-up call to hands with our Spa Manicure Line – a Collection of reparative, replenishing products brimming with energizing essential oils dervied from sun-loving citrus fruit, and blended with rejuventing antioxidants, nourishing vitamins and nurturing moisturizers
Pedicure Hydro Spa two options to Choose Marine Pedicure


Marine-derived pedicure system exfoliates, moisturizes and soothes your skin with a combination of sea salts, marine botanicals and sea extracts to reveal soft, hydrated, healthy looking skin.A cooling, rejuvenation foot masque enhanced with hydrating sea extracts, conditioning mineral clay and soothing botanicals.Cools the feet with natural menthol. Draws moisture into the skin with panthenol. Helps calm inflammation and irritation.



Hand & Feet Volcanic Stone Treatment


Our Manicure & Pedicure will use volcanic hot stone which is full of natural essential minerals to do hand and feet spa treatment. This is to help beter blood circulation and to rest muscles' issues.
Nail Polish Hand & Feet


Beautify hands and feet by experiencing the combination of luxury and relaxation with a variety and exclusive nail polish colors from CND, INM, CLUB KENZICO, CUCCIO, Mary Quant, Anna sui and so on that don't have Methyl Methacrylate, Toluene,Formadehyde and Dibutyl Phthalate in order to SAVE HEAL TH